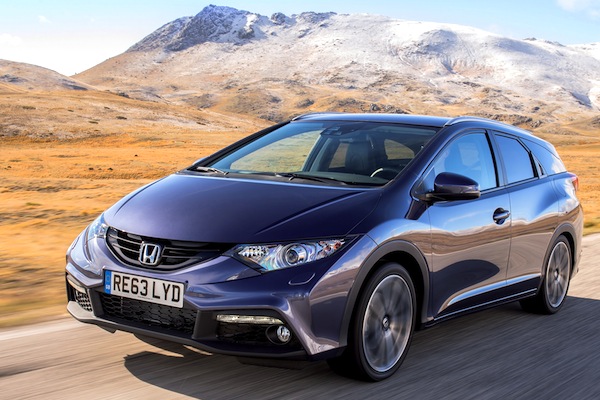 The Tourer variant lifts the Honda Civic into the Estonian Top 10 this month.
* See the Top 50 best-selling models and Top 35 brands by clicking on the title! *
The Estonian new car market is up 7% year-on-year in July to 1,942 registrations, bringing the year-to-date total to 12,611 units, up 4% on 2013. Brand-wise, Toyota and Skoda continue to dominate with 11.4% and 8.9% share respectively, while Volkswagen overtakes Peugeot to round up the podium with 7.5% of the market. Nissan is up to #6, Dacia remains 9th, Mazda is up to #11 and Audi up to #15. In the model sales charts, the Skoda Octavia keeps the lead it reclaimed last month thanks to 78 sales and 4% share but still trails the Honda CR-V (down to #7 in June) in the year-to-date ranking. The Toyota Auris remains 2nd, the Nissan Qashqai is up two spots on June to #3, the Peugeot 3008 holds onto a brilliant 4th place and the Dacia Duster is up one rank to #5. Thanks to the all-new Tourer variant, the Honda Civic jumps a spectacular 28 spots on last month to land at #8 while the Suzuki SX4 is up 13 to #9.
Previous month: Estonia June 2014: Skoda Octavia in the lead
One year ago: Estonia July 2013: Skoda Octavia ends 6 months of Honda domination
Full July 2014 Top 50 models and Top 35 brands Ranking Tables below.