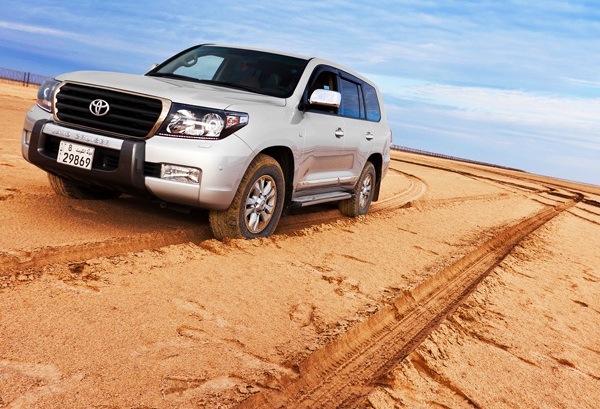 Toyota Land Cruiser. Picture by Mishari Al-Reshaid, all rights reserved.
* See the Top 80 best-selling models by clicking on the title! Many thanks to Ldman *
The Bahraini new car market finishes the year with a bang, up an astounding 79% year-on-year in December to 4,542 registrations, bringing the Full Year 2012 total to 42,744 units, up 37% on 2011. December highlights include the Toyota Prado in the lead for only the third time this year after August and November with 444 sales and 9.8%, the Nissan Micra up to #4, BMW 7 Series up to #6, Toyota Avalon up to #10 and Hyundai Azera up to #14.
Toyota Prado
Over the Full Year, the Toyota Land Cruiser stays on top, improving its market share from 6.9% in 2011 to 9.4% in 2012 thanks to sales up 86% to 4,017. It led the monthly ranking 9 times this year. The Toyota Prado does even better and increases its sales 4-fold compared to 2011 at 3,553 units and 8.3%, up 295%. The Toyota Hilux rounds up the podium like last year with 2,173 sales and 5.1%, up 63%, followed by the Toyota Corolla up 46% and the Hyundai Tucson up 64%.
Nissan Micra
Further down, notice the Nissan Sunny up 150% to #9, Hyundai Elantra up 148% to #10, Honda Accord up 67% to #13, Lexus LX up 82% to #17, Toyota FJ Cruiser up 125% to #20, Hyundai Azera up 326% to #23, Nissan Micra landing directly at #26, Nissan Patrol up 126% to #38, Ford Expedition up 387% to #41 and Lexus RX up 490% to #42.
Previous month: Bahrain November 2012: Toyota Prado at record heights
Previous year: Bahrain Full Year 2011: Land Cruiser leads, Hyundai Accent shines
Full Year Top 80 and December Top 70 Ranking Tables below.