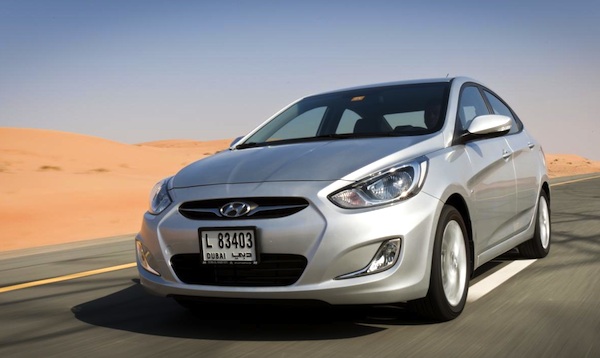 Hyundai Accent is the best-selling model in Algeria.
* See the Top 10 best-selling models and brands by clicking on the title! *
The Algerian new car market is definitely going through a tough time in 2014: down 30% year-on-year over the First Quarter to just 85,000 registrations, and this evolution has wreaked havoc in both brands and models sales charts in the country. Edged out by Peugeot last year, Renault is back in pole position in spite of sales down 18% to 13,884 units. It is now followed by Hyundai, up an impressive 11% to 11,574 sales and going from 8.8% share a year ago to 13.6% now. Peugeot is down a harsh 66% to #3, Toyota down 15% to #4, Dacia down 52% to #5, Kia up 46% to #7 and Nissan up 26% to #9.
The Toyota Hilux is up to #2 in Algeria so far in 2014.
Model-wise, it's a complete reshuffle at the top: the Hyundai Accent jumps from 9th over the Full Year 2013 directly into pole position, and by far, with 8,201 sales and 9.6% share, even though a large part of its sales are achieved by the model from two generations ago, still on the catalogue. Up from #7 in 2013, the Toyota Hilux ranks 2nd at 4,577 units, the Dacia Logan is down from #1 last year to #3 with 4,179 units. The Renault Symbol is up one spot to #4, the Kia Picanto up 5 to #5, Toyota Yaris up 8 to #7 and the Peugeot 301 down 8 to #10.
Previous post: Algeria Full Year 2013: Now with the Top 200 All-models ranking!
Check also: Algeria Full Year 2013: Dacia Logan #1 for first time, Peugeot 301 at world-best #2
One year ago: Algeria February 2013: Renault Clio IV and Peugeot 301 impress
Full First Quarter 2014 Top 10 and March Top 5 brands and models Ranking Tables below.