Indonesia November 2012: Toyota Avanza breaks record
Toyota Avanza in Ubud, Bali Indonesia
* See the Top 10 best-selling models and Top 8 brands by clicking on the title! Thanks Eddy *
The Indonesian new car market continues on its record run this year and lodges a 100,000+ sales month for the 5th time in the last 6 months at 103,474 units, the 2nd biggest monthly tally after October 2012 (106,806). The impressive fact is before last June, never had Indonesian car sales found themselves above 100,000 units/month, ever. Bonus in November: the year-to-date total breaks the historical 1-million sales barrier for the first time at 1,026,606 units, and there is one month to go still in 2012...
Daihatsu Xenia in Ubud, Bali Indonesia
This month the Avanza hits 17,860 sales and 17.3% share, an all-time record, beating the 17,364 it sold last March. After 11 months in 2012, the Avanza's total stands at 175,049 units, up 18% on the same period in 2011 when it sold 148,297 and again an all-time record for any model in the country. Its twin the Daihatsu Xenia ranks #2 both in November with 6,452 sales and 6.2% and year-to-date at 67,984 units and 6.6%, now above the Toyota Innova at 67,009 and 6.5%. All-in-all, Avanza+Xenia account for almost 24% of the Indonesian market this year...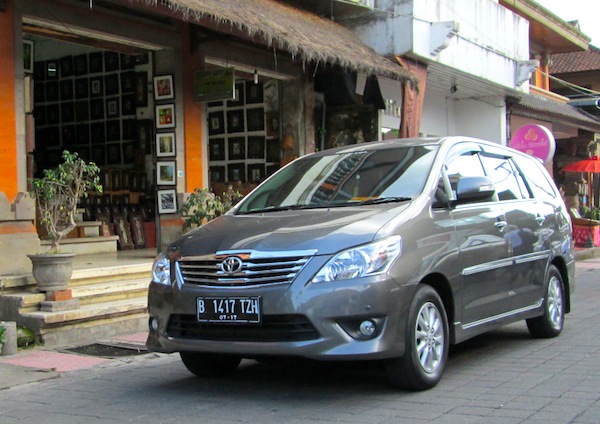 Toyota Innova in Ubud, Bali Indonesia
Ubud, Bali Indonesia December 2012. Picture by my dear Mum and Dad.
Good performances of the Daihatsu Gran Max Pick-up at #4, the Toyota Yaris breaking its monthly volume record at 2,736 sales and #8, the Honda Jazz up 7 spots on October to #10 at 2,535 units and the Honda CR-V at 1,814 sales. Notice also the Honda Brio at 1.124 units and 1.1%. Brand-wise, Toyota sold 36,996 cars in Indonesia in November for a 35.8% market share, up 3% on last month when it sold 35,855.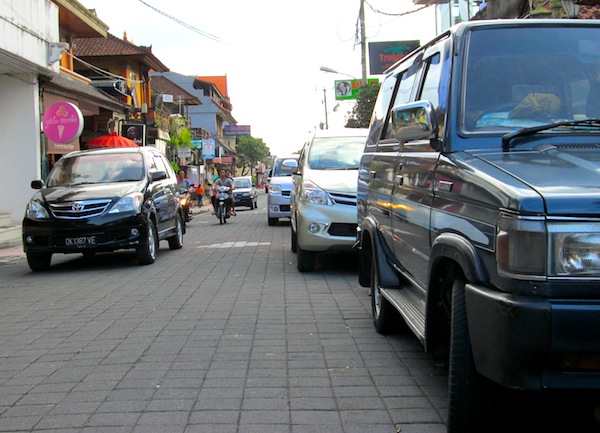 Typical car landscape in Bali, Indonesia. From right to left: old gen Toyota Kijang, 2nd gen Toyota Avanza, Suzuki APV, old gen Toyota Kijang and 1st gen Toyota Avanza.
Year-to-date, Toyota leads by far with 370,987 sales and 34.1% share, above Daihatsu at 150,183 and 14.6%, Mitsubishi at 138,778 and 13.5% and Suzuki at 117,927 and 11.5%. Honda, Nissan, Isuzu and Mazda follow.
Previous post: Indonesia: 1976-2011 Historical Info now available!
Previous month: Indonesia October 2012: Honda CR-V shines in record month
One year ago: Indonesia November 2011: Suzuki APV up to #3, Nissan Juke #8
Full November 2012 Top 10 models and Top 8 brands Ranking Tables below.