United Arab Emirates August 2012: Toy Hilux and Prado still on top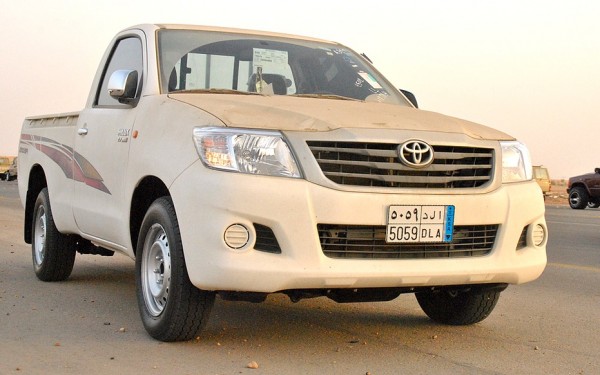 Toyota Hilux. Picture by Abdulmalik Al-Sabeg, all rights reserved. (click to enlarge)
* See the Top 100 best-selling models by clicking on the title! Many thanks to Ldman *
New car sales in the United Arab Emirates are up another spectacular 36% year-on-year in August to 27,300 registrations, bringing the year-to-date total to 200,052 units, up 29% on 2011. The Toyota Hilux seems to have taken a definitive advantage in the Emirati models ranking this year, at #1 for the third consecutive month and the 5th time in 2012 with 2,090 sales and 7.7%, also topping the 2012 year-to-date ranking at 13,262 units and 6.6%. The Toyota Prado ranks 2nd like in July with 1,491 sales and 5.5% but is #3 year-to-date at 9,874 units and 4.9%, only 11 units below the Toyota Land Cruiser, #3 in August. The Toyota Corolla is up 2 spots to make the Emirati Top 4 100% Toyota for the 5th consecutive time...
Nancy Ajram endorsement of the Nissan Micra
The Fuso Canter is the best-selling non-Toyota model for the 4th month in a row at #5, ahead of the Toyota Camry, Nissan Altima, D22 and Patrol with the Toyota Land Cruiser Pick-up rounding up the Top 10. The Mitsubishi Pajero is up 10 spots to #11, the Nissan X-Terra up 64 to #22, the Nissan Micra up 75 to #25, the BMW 7 Series also up 75 to #33, the Hyundai Azera up 14 to #36, the Chevrolet Tahoe also up 14 to #39, the Lexus ES up 38 to #49 and the VW Passat at #54.
Previous month: United Arab Emirates July 2012: Toyota Hilux and Prado strong
Previous year: UAE Full Year 2011: Toyota Corolla snatches last minute win
Full August 2012 Top 100 Ranking Table below.