Australia: 1948-2014 more detailed Historical Data now available!
Australian Wheels Magazine covers featuring Japanese models 1958-1968 (click on image to enlarge)
* The direct links to these 44 Australian Historical articles are below! *
Australia has now become one of the most complete countries on BSCB in terms of Historical Data. There is now a complete annual models ranking for the past 25 years: from 1990 onwards, also a Top 50 from 1991 on, and every single monthly Top 20 from July 2002 onwards, that's over 150 consecutive rankings.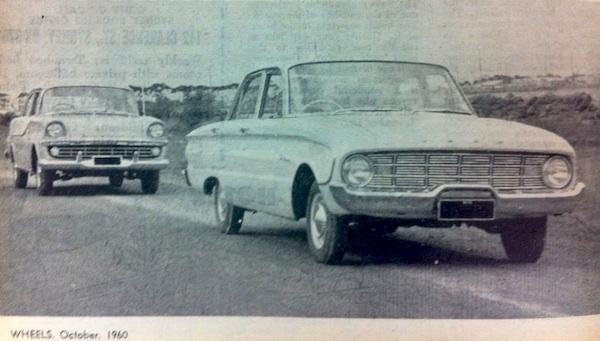 1960 Holden and Ford Falcon
Make sure you explore the 4 Vintage Photo Reports featuring dozens of original pictures from 1949 to 1976: 1949-1959, 1960-1968, 1959-1968 special Japan and 1969-1976… Witness the launch of the Holden, 'Australia's own', in 1949, the arrival of the Ford Falcon in 1960 to challenge the Holden domination, the landing of Japanese brands in the late fifties (Australia was Toyota's very first export market), the arrival of Korean manufacturers in the mid-eighties and of Chinese marques from 2009 onwards…  See how the Holden Torana and Kingswood perform and watch the Datsuns that managed to climbed on the models ranking podium in the seventies…
1988 Holden Commodore
From 1978 witness one of the longest and most intense model battles in the world between the Holden Commodore and the Ford Falcon… If the Commodore took the advantage at the start, the Falcon led the way during most of the eighties, while in the nineties the fight got ugly: only 191 units separated the two in 1992, with the Falcon the lucky winner that year! All in all, the Falcon peaked at 13.3% market share in 1988 (eighties market shares are for the large part unknown so far) while the Commodore hit 12.8% in 1996 and sold a record 94,642 units in 1998…
2011 Mazda3
From 1996 onwards it was the Commodore who took the reigns of the market, and did so for 15 consecutive years up until the Mazda3 became the first imported model to rank #1 in Australia since World War 2… It got worse in 2012 with no local model on the podium. Look into the context in which the Hyundai Excel delivered one of the biggest surprises in the Australian automotive industry when it led the monthly ranking in June 1998… The Toyota Corolla ranked #1 for the first time in September 2005 and dislodged the Ford Falcon from the 2nd place in 2006 to finally top the annual ranking in 2013 and do it again in 2014, marking 4 consecutive years with an import in first position.
Australia Historical Data:
Australia 1948-1949: Austin A40 dominates sales
Australia 1949-1959: Holden 'Australia's own' launches (with Vintage Photo Report)
Australia 1960-1968: Ford unveils Falcon to challenge Holden (with Vintage Photo Report)
Australia 1958-1968: Toyota and Japan's first export market (with Vintage Photo Report)
Australia 1969-1976: Ford catches up on Holden, a Datsun on the podium (with Vintage Photo Report)
Australia 1977: Ford Falcon dislodges long-term leader Holden
Australia 1978: Holden Kingswood back to #1, Nissan 200B on podium
Australia 1979-1981: Holden Commodore an instant hit
Australia 1982: Ford Falcon beats Holden Commodore
Australia 1983-1986: Ford Falcon reigns
Australia 1987: Ford Falcon distant leader
Australia 1988: Ford Falcon at 13.3% share, holds off Holden Commodore
Australia 1989: The start of the real 'Falcadore' era
Australia 1990: Holden Commodore takes the advantage
Australia 1991: Holden Commodore keeps pole position
Australia 1992: Ford Falcon passes Commodore for 191 units!
Australia 1993: Ford Falcon leads at 11.7%, Mitsubishi Magna #3 at 6.8%
Australia 1994: Holden Commodore reclaims top spot
Australia 1995: Last year of reign for Ford Falcon – hits 12.7%
Australia 1996: Commodore at record 12.8%, Hyundai Excel #3
Australia 1997: Commodore and Falcon down, Kia lands
Australia 1998: Commodore hits highest ever volume, Hyundai Excel #1 in June!
Australia 1999: Commodore leads but down 10%
Australia 2000: Commodore enjoys 5th year in a row at #1
Australia 2001: Commodore, Falcon and Toyota Corolla on podium
Australia 2002: Commodore in command, breaks monthly record
Australia 2003: Ford Falcon teases Holden Commodore
Australia 2004: Commodore undisputed leader
Australia 2005: Commodore and Falcon still dominate but slow down, Corolla #1 in September
Australia 2006: Commodore limits fall thanks to new gen, Falcon down to #3!
Australia 2007: Commodore resists new Corolla assault in millionaire market, Falcon down to #5
Australia 2008: Corolla #1 until July, Commodore saved by Sportwagon, Toyota Hilux #1 twice (with All-models ranking)
Australia 2009: Commodore hits lowest volume ever, Mazda3 #1 in January, the Chinese arrive (with All-models ranking)
Australia 2010: Commodore #1 for 15th year in a row (with All-models ranking)
Australia 2011: Mazda3 breaks Commodore domination, the first time an imported model leads sales since 1947! (with All-models ranking)
Australia 2011: The Chinese have well and truly landed!
Australia 2011 State by State: Toyota Hilux king 3 times
Australia 2012: Mazda3 leads again, no local model on podium for the first time since 1930s (plus All-models ranking here)
Australia 2012: Now with exclusive rankings State by State!
Australia: 1990-2012 Nameplates records now available
Australia 2013: Toyota Corolla finally tops record market
Australia 2013: Discover the best-sellers State by State
Australia 2014: Toyota Corolla holds onto top spot