Japan 6 months 2012: Toyota Aqua, Vellfire & Honda Freed excel
Toyota Vellfire
* See the Top 30 best-selling models by clicking on the title! *
The first half of 2011 was a traumatic time for Japan, devastated by an earthquake and tsunami with damage that will take years to rebuild. As a counterbalance the first 6 months of 2012 have been extremely good for car sales in the country, up 55% year-on-year to 1,856,934 registrations. The big event in the models ranking is obviously the return in force of the Toyota hybrids: if one year ago the Toyota Prius was suffering at #2 and -51%, this year is is up a huge 118% to 181,630 sales, beating its previous 2010 record of 170,426 units and potentially the highest half year volume of any model in the history of automobile in Japan...
Toyota Aqua
The Honda Fit, #1 one year ago, is down to #2 but still up a very respectable 51% to 133,345 sales. In third place we find the most successful new model launch in Japan in over a decade: the Toyota Aqua with a massive 128,243 units. It is followed by the Honda Freed, which has gone more or less unnoticed with all the hype surrounding the Aqua but nevertheless delivers one of the best performances in the Top 30 at +112% to 70,629 sales.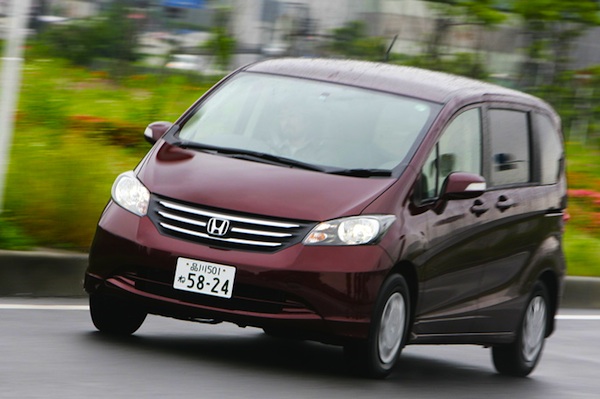 Honda Freed
Other big gainers include the Toyota Vellfire up 13 spots and 156% to #7, the Toyota Alphard up 14 ranks and 179% to #15, the Subaru Impreza up 2 spots and 94% to #23, the Toyota Sienta up 994% to #26 and the Mazda CX-5, with the Aqua the only all-new model in the Top 30 at #29 with 15,325 units.
Previous post: Japan June 2012: Toyota Prius and Aqua lead, Mazda CX-5 up to #13
One year ago: Japan June 2011: Recovery in sight, Nissan March #5
Full 6 months 2012 Top 30 Ranking Table below.