Denmark April 2012: Toyota Aygo #1, VW Up! stays on podium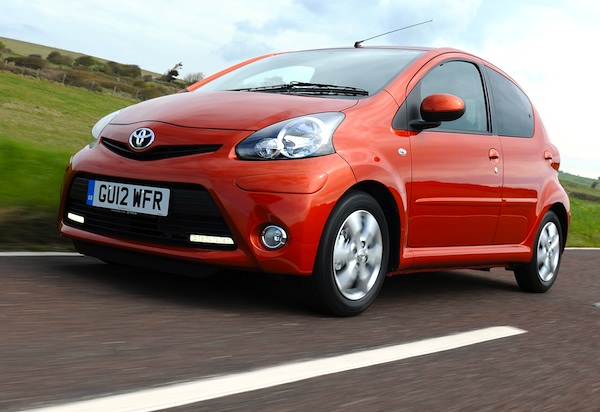 Toyota Aygo
* See the Top 75 best-selling models by clicking on the title! *
Another shy month for Danish new car sales, down 14% year-on-year to 11,274 registrations, bringing the year-to-date total to 52,041 units, down 3% on 2011. The Toyota Aygo was the best-selling model in Denmark in 2010 but had not led the ranking for nearly 2 years until this month: with 645 sales it grabs an impressive 5.7% of the market and is now #4 year-to-date. Its twin the Peugeot 107 stays #2 both in April with 573 units and 5.1% and year-to-date with 1,811 sales and 3.5%, only 10 units below the Chevrolet Spark down to a disappointing 41st place this month, its first time outside the Top 20 in over 2 years...
Peugeot 107
Surprising leader last month, the VW Up! manages to stay on the Danish podium for the 2nd month in a row at #3 in April with 370 units and 3.3%. Below the Kia Picanto still in great shape at #4, the Citroen C1 is up 5 spots on March to #5 with 336 sales and 3% which means the twins Aygo/107/C1 all manufactured in Kolin Czech Republic add up to a gargantuan 1,554 sales and 13.8% of the Danish market this month! It also means the entire Top 5 is composed of mini cars.
Citroen C1
Other great performers include the Ford Fiesta up 6 spots to #8, Citroen C3 up 10 to #11, Ford Focus up 40 to #13, Hyundai i20 up 11 to #14, Ford Ka up 11 to #19, Peugeot 207 up 15 to #23, Peugeot 308 up 19 to #25, Audi A4 up 32 to #29, Suzuki SX4 up 18 to #30 and BMW 1 Series up 34 to #50.
Previous month: Denmark March 2012: VW Up! already in pole position!
One year ago: Denmark April 2011: Hyundai i30 jumps to #1
Full April 2012 Top 75 Ranking Table below.