South Korea 2000: Sonata, Kia Carens & Daewoo Rezzo on top
Daewoo Rezzo (aka Tacuma)
* See the Top 50 best-selling local models by clicking on the title! Thanks to Pedro *
The Hyundai Sonata is the most popular model in South Korea for the 2nd year running in 2000 thanks to 105,111 sales, down 7% year-on-year. Excellent performance of the Kia Carens, up 4 spots and 42% to #2 and 84,089 units for its first full year of sales in the country. The Daewoo Rezzo does even better and lands directly in third place with 66,766 sales whereas it was launched during the year...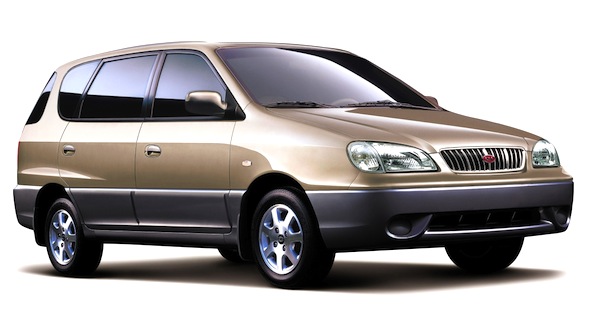 Kia Carens
The Daewoo Matiz is down 26% to #4, the Kia Carnival down 13% to #5 while the new generation Hyundai Avante XD arrives directly #6 with 57,070 units, followed by the Hyundai Verna (+38%), Hyundai Grandeur XG (+28%)...
SsangYong Musso
...SsangYong Musso (+36%) and Hyundai Trajet (+230%). Other newcomers this year include the Kia Optima at #12, the Kia Spectra at #20 and Hyundai Santa Fe at #22.
Previous year: South Korea 1999: Hyundai Sonata best-seller
Full Year 2000 Top 50 Ranking Table below.